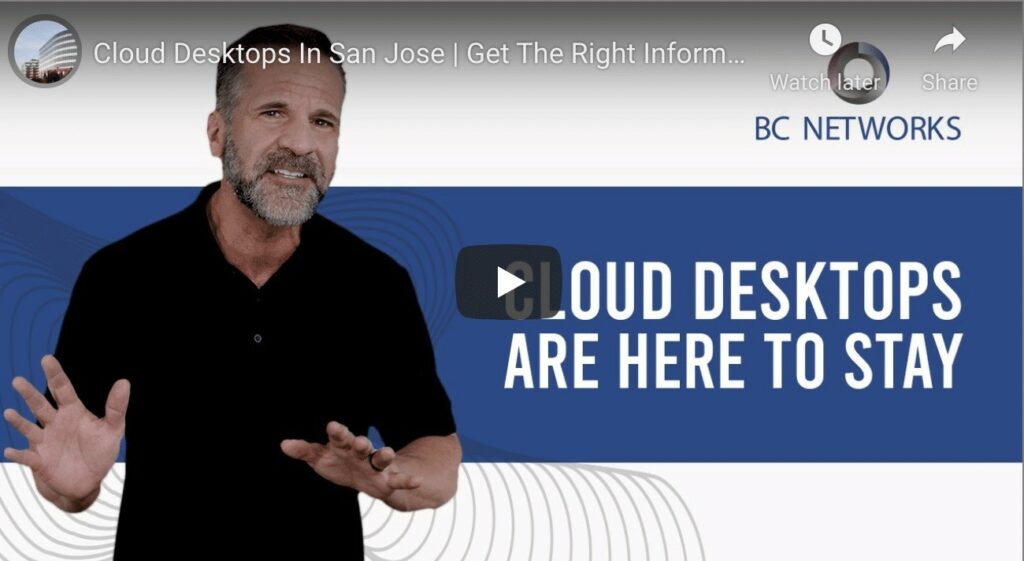 Top 5 Reasons San José Professionals Love Cloud Desktops
Top 5 Reasons San José Professionals Love Cloud Desktops
Cloud desktops have always been a reliable solution for professionals given the flexibility they offer. In recent months, modern professionals have exponentially increased dependence on cloud desktops, enjoying the ability to access a cloud desktop from anywhere a mobile office needs to be.
More San José professionals are making the move to cloud desktops when the need to access your files from anywhere is crucial. Technology has powered so many professionals who have faced the urgent need to reconsider the primary productivity location. A home office needs to let professionals be as productive as a workplace required, and cloud desktops do just that.
What Are Cloud Desktops?
Cloud desktops, while not exactly new technology, have surged in popularity in the last year as businesses have placed a greater value on cloud technology to serve a remote workforce. When many businesses were facing a sudden and dramatic shift in workforce location, professionals were challenged with the need to find a way to remain productive and connected, and able to share information and files with colleagues without requiring teams to be in the same location, much less on the same network.
Moving your desktop to the cloud gives you the flexibility professionals need while enabling the productivity businesses need from professionals. Your personal cloud-based desktop can be accessed from anywhere with an Internet connection, using the same productivity software and apps you need.
5 Reasons You Need Cloud Desktops
There are countless reasons why cloud desktops are becoming so popular, but the main reasons professionals love cloud desktops are:
Flexibility
As mentioned already, flexibility is the biggest reason professionals love cloud desktops. Your cloud-based desktop is the same no matter what device you use to access your cloud desktop, whether from your home desktop computer, your laptop computer, or using a tablet. Your productivity apps are readily accessible, and your set-up remains unchanged.
Cost
Cloud desktops mean you won't face expensive equipment purchases – especially the sudden and unplanned kind – and you won't be dealing with periodic hardware upgrades.
Scalable
Business needs change, and sometimes they change quite often. You can increase data storage quickly, easily, and without the high cost or delay of purchasing a fixed storage solution with cloud desktops. Cloud storage is economical, easy to increase or decrease as your needs evolve.
Security
Not only do most desktop or laptop computers have password protection to access the operating system, but cloud desktops also require you to have the login to access – that's after knowing how to access the cloud desktop, typically via a web browser. With this many layers of passwords, security is heightened, but even if security becomes compromised cloud desktops are a safe solution given you can remotely wipe a cloud desktop to prevent unauthorized access.
Data Back-ups
Along with the security benefit, cloud desktops can be easily backed up and then restored to maintain continuity of business. Even better, there's no longer a need to worry about that fan that's running too much or potentially overheating because your desktop or laptop computer is a few years old. Cloud desktops mean no more fried hard drives!
San José professionals can work anywhere, anytime, and securely with cloud desktops