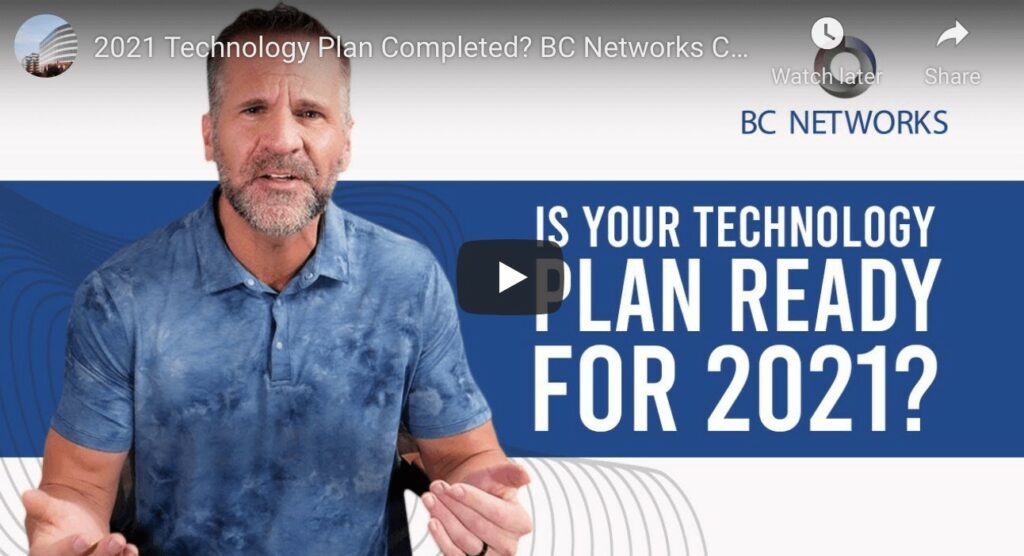 Is Your Technology Plan Ready For 2021?
Is Your Technology Plan Ready For 2021?
There are many things that go into making your business ready for the new year, but is making a technology plan one of them? If your company has not been making technology plans annually, you are missing out on a great opportunity to boost business while also enhancing stability. In this video, we discuss how you can create a technology plan for 2021, and why you should make it a priority.
Having a technology plan is one of the best ways to outperform competitors. Research suggests that companies who create a technology plan, accounting for changes within their IT and technology infrastructure, are more likely to succeed than those who do not. It shows customers that you are dedicated to quality, and that you are making smart decisions for your business. Creating a technology plan also helps improve stability for your organization during uncertain times.
Last year, many companies without technology plans shut down because they were not prepared for the effects of the pandemic. They did not consider the benefits of having a good IT infrastructure, including better business continuity, improved security, a solid remote workforce, and more when they were going into the new year, and this created problems for them later on. These businesses were not able to pull through because their technology was out of date and unreliable. They also did not have a plan to switch to such an online heavy practice when social distancing started. Had they made a technology plan at the beginning of the year, they would not have been as impacted by the events of the year.
By having a technology plan, you are creating a solid foundation for your company to stand on. This attracts customers and establishes a safety net for if you should need to make adjustments quickly.
Are You Ready To Make A Technology Plan?
Hopefully, you see the benefits of creating a 2021 technology plan for your business. If you would like help getting started on this project, reach out to us. At BC Networks we want to make sure that your company is successful and secure, so that you can have your best year yet. Contact us online or by phone today.