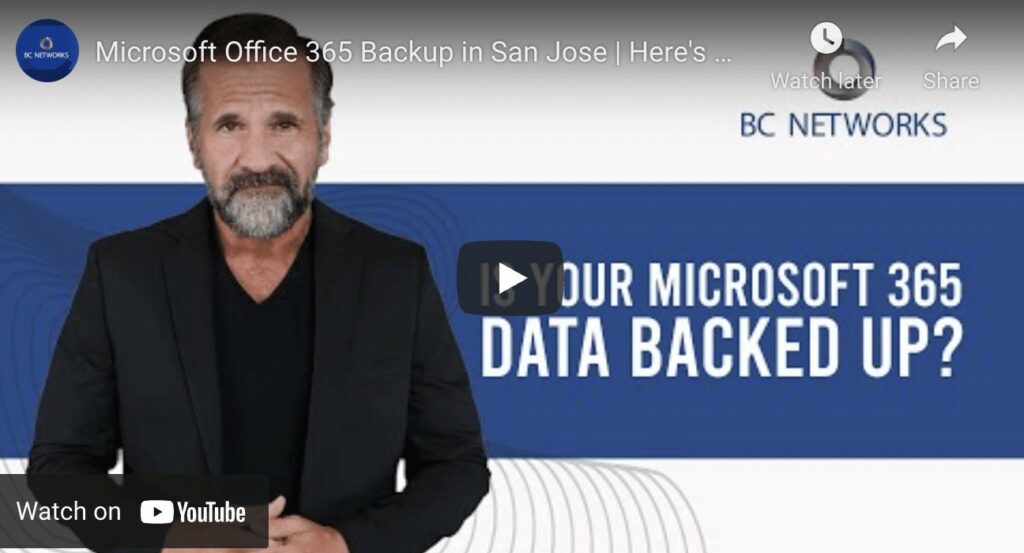 Why You Need a Backup Solution for Microsoft 365
Why You Need a Backup Solution for Microsoft 365
There is a high probability that you use Microsoft 365 for your business functions. After all, most companies have been making the transition to the platform because of the many benefits it offers.
Firstly, Microsoft 365 offers you the flexibility to scale your business faster than other platforms. It allows you to mix and match applications to create a custom solution that works for each department. It's also easy to add or remove users as your company grows or downsizes by adding or eliminating licenses.
Secondly, Office 365 is a cloud-based solution that lets you work from anywhere. This is because the files and documents you store on the cloud are accessible from any location. You can edit, share, or create Word, Excel, PowerPoint, and other files from anywhere and collaborate with team members in real-time. This function is particularly beneficial to companies with employees who work from multiple locations.
Despite its many advantages, Microsoft 365 has one weakness that could bring your business crumbling down in a split second.
Microsoft 365 Does Not Back Up Your Data
Did you know that Microsoft 365 doesn't have an adequate backup system for your files and data? You probably had no idea and had not thought about it, but that's the truth. Microsoft 365's backup system is not good enough for security compliance purposes. Unfortunately, users and administrators hardly back up their Office 365 mailbox data because they believe it is safe in the cloud.
Microsoft points out that it is not responsible for your data in the form of backup and retention. While the platform is secure, you might not fully recover your data in the event of data loss.
Typically, the platform only offers a 30-day retention period that is inbuilt into Office 365. Besides, Microsoft SharePoint Online creates a backup every 12 hours, which is retained for only 14 days. The recycle bins are not any different, and once you delete data, it is gone forever. However, most of these settings depend on the level of license that you have.
The Importance of Backing Up Your Data
It is a good practice to back up emails, files, and documents on Office 365. Remember that the cloud is universally accessible, making it susceptible to hacking and unauthorized access. Improper account closure or accidental deletion of items can happen, which can make you lose essential data. If data deletion or data loss occurs, you have no way to retrieve your Office 365 mailbox data.
As a way to protect yourself from such eventualities, you need to back up your Microsoft 365 platform. It is ultimately up to you to safeguard your data. Just imagine what would happen to your business if you lost pertinent information that helps your business run. Additionally, backing up your data helps your business in the following ways:
Reliable replication: if something unfortunate happens to your data, you want to be sure that you can quickly replicate it. This is the surest way for your business to pick up from where it left before disaster struck.
Security: it's one of the crucial aspects of data backup and recovery. As your company grows and integrates with others, it becomes exposed to more potential threats to the information it holds. Having a backup strategy will enhance security by saving a copy of your data in case of a cyberattack or any other form of data loss.  Your business becomes better able to deal with ransomware attacks and file deletion.
Ease of management: having a corporate system for data backup reduces the time and stress it takes to restore lost data. It creates consistencies in the backing processes and prevents users from making irregular and inconsistent backups.
Maintenance of compliance standards: when your business has a backup policy in place, you ensure regulatory compliance and avoid data loss when your Microsoft 365 subscriptions are deactivated.
The frequency of data backup is usually on a case-by-case basis for companies. However, it's recommendable to back up your data at regular intervals. In the event of data loss, you'll only lose an amount of data that won't bring your business to a halt. Begin by assessing how much data your company has, and how often it changes. This way, you can create a backup schedule that best works for your company.
Use Third-Party Backup Solutions to Safeguard Your Data
Several strategies exist for backing up data, but none will give you peace of mind like using Backup as a Service (BaaS). These systems connect your business data to a third party that provides public, private, or hybrid cloud services. This works better than creating backups on a centralized solution based on your business premise.
You will be better off using a BaaS solution when your company has outgrown your legacy storage backup, or in the case of Office 365 that doesn't have a stable backup system. Instead of investing in a costly system upgrade, BaaS can benefit you by providing:
Quick data access: your IT team can quickly retrieve data from third-party backup systems when internal operating systems fail. Backup service providers have the tools and expertise to help you recover and restore lost files from Microsoft SharePoint.
Data accessibility: BaaS allows you to connect to your data from local or remote areas without trouble.
Scalability: As your company grows, you want a backup solution that can help you manage your growing infrastructure. Third-party service providers have this capacity and will help you scale with ease without reliance on onsite storage solutions.
Are You Ready to Back Up Your Microsoft 365?
It has probably come as a surprise to learn that Microsoft 365 does not adequately back up your data. Luckily, it's not too late to take the proper steps to protect your data from loss. A reliable backup solution is what you need to ensure your files are safe and easy to reach in case of an attack or accidental deletion.
If you're looking for a backup solution provider to help your situation, BC Networks is here to help. Over the years, we have helped clients ensure their IT infrastructure is fully compliant, and their data is secure, and we can do the same for you. Contact us today for data backup, recovery, and a lot more.