Does Your Manufacturing Firm Have A Strategy For The Latest Technology?
Digital has quickly replaced mechanical. In the last decade, manufacturing firms have noticed the change, which is all a part of what's being called the "4th industrial revolution". More and more processes are digitized, allowing data to become the primary driver in many areas – and that's why implementing the right technologies (and keeping them secure) is so important.
Gartner estimates that by 2023, 30% of industrial enterprises will have full, on-premises deployments of Internet Of Things platforms, up from 15 percent in 2019. It's simply the way the world is moving, and for good reason.
The business workplace is being drastically altered by technology as each year goes by – if you don't embrace it, then you'll be left behind.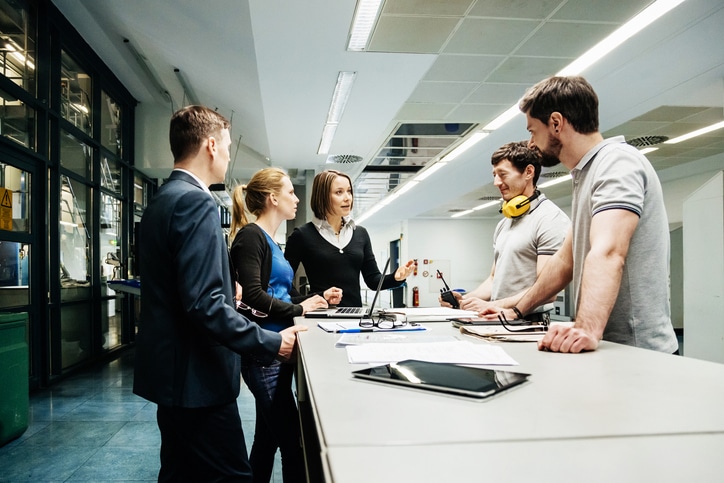 Are You Harnessing The Capabilities Of Smart Technology?
Many firms find it difficult to keep up with the latest advances in technology. It takes time and knowledge you may not have to keep up to date with recent IT advancements and to understand how to harness them.
Aligning your information technology solutions with your business plan will be transformational in terms of returns and success. A technology plan can do the following for you:
Drive productivity, efficiency, and competitiveness.
Save you money in wasted time and effort.
Enhance collaboration and communication.
Keep you on track to achieve your goals.
Show you opportunities to further optimize business processes.
Identify and mitigate cybersecurity vulnerabilities.
With the right expertise and strategy, you should be able to effectively plan to adopt new technologies in the right time frame, according to your budget. With a technology plan, the project will undoubtedly take longer and cost more than expected.
What Can Your Firm Achieve With The Latest Technologies?
Become More Mobile
Mobile devices have made it easier and easier to get work done while on the go. Laptops, tablets, and smartphones are a simple way to share and review data, stay in touch with employees, and more while on the road.

You don't even necessarily need to invest in new hardware – implement Mobile Device Management and Bring Your Own Device policies that allow employees to use their own devices in combination with the organization's – be sure to equally prioritize the convenience of access with security.
Automate A Range Of Processes
Automation with machine learning plays an enormous role in optimizing workflows and predicting problems before they occur. With workflows based in the cloud, you can automate or semi-automate many processes:
Use analytics to predict problems before they arise.
Automate and monitor work and maintenance schedules.
Track and optimize work-in-progress on sites using sensors that monitor downtime.
Modernizing your firm doesn't have to be a massive restructuring of the way you do business. Step by step you can affect these changes, either by investing in and implementing these technologies on your own or by consulting with BC Networks.
What Threats Are Facing Your Manufacturing Firm?
Don't forget that the more technology is integrated into your firm's operations, the more important cybersecurity becomes. According to The State of Industrial Cybersecurity 2019 report:
87% of respondents ranked cybersecurity as a priority
More than 80% of respondents have a documented cybersecurity standard in place
69% of respondents believe they are going to be the target of a cyber-attack
Are you doing what's necessary to protect your manufacturing firm's data? Have you invested in cybersecurity for manufacturing firms?
As Kapersky notes, one of the biggest threats to the manufacturing industry is ransomware. Case in point, just last year, ACSO, one of the world's larger manufacturers, had its operations brought to a standstill by ransomware. While they worked to restore their systems, ACSO sent home around 1,000 employees on paid leave – can you afford that kind of damage control?
Ransomware is an undeniably major threat to businesses around the world today. Maybe you can accept that ransomware is real, but don't believe it's all that costly. On the contrary, according to Beasley Breach Response's 2019 noncompliance report…
The average ransomware payout is $116,000
The highest ransomware demanded by cybercriminals was $8.5 million
The highest ransom paid by a target organization was $935,000
How Can Protect Your Manufacturing Firm?
A majority of cybersecurity technologies offered today include the best in vital software, from firewalls to anti-malware to data encryption and more. However, as important as this technology is, on its own, it simply isn't enough.
You need to invest in a little expert protection, just like your fellow members in the manufacturing industry – 55% of those surveyed in The State of Industrial Cybersecurity 2019 are increasing their budget for cybersecurity.
BC Networks can help. We can put our cybersecurity expertise to work for you, implementing best practices, identifying vulnerabilities, and protecting you against the more common and dangerous cybercrime scams like ransomware.
Click here to get started or call us at (408) 243-1100.
Experience and strategy are what set us apart from other San Jose, Silicon Valley & South Bay IT companies. We deliver consistently optimal results following our carefully developed and mature set of IT practices and procedures.