Looking For A San Jose IT consulting Firm To Keep Your Information Secure?
Choose BC Networks for a San Jose IT consulting firm that will make your IT work simple.
Your business is too important for it not to be protected when it comes to computer security and networking. You may have already hired an IT professional to work as part of your company's staff, but now you are finding that this is a rather expensive option. However, there is another way for you to get the support you need to feel secure in your computer operations. You can outsource it to a San Jose IT consulting firm that will fulfill all your requirements for IT support — BC Networks.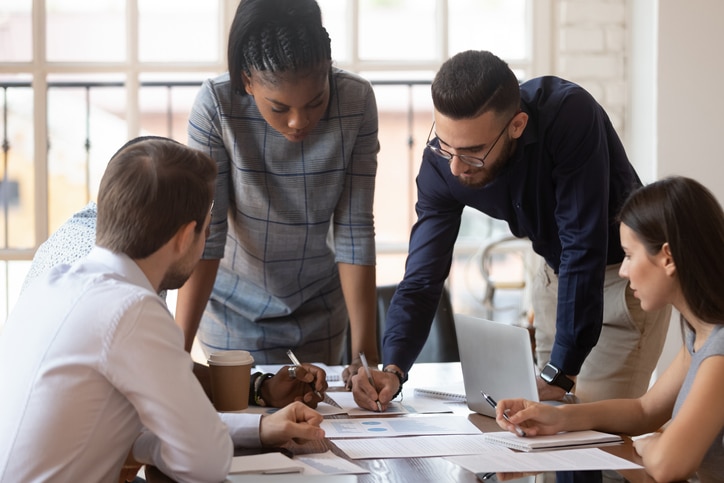 Why Choose BC Networks As Your San Jose IT Consulting Company?
First, let's cover some facts about IT support that will help to put things in perspective. The average IT service desk uses 68.5% of its budget to cover the costs of personnel. Meanwhile, it spends only 9.3% of its budget on technology. That's a great deal of money that's going toward paying in-house IT staffers. But to make sure that your business can operate at its fullest potential without having to worry about its technological requirements, and to keep your workflows efficient and network infrastructure running well, you need some sort of IT support. The question becomes how to achieve it in a cost-effective manner.
To resolve this problem, you can hire a San Jose IT consulting firm to outsource your IT support needs. There are a number of advantages that this approach will provide your business that you may have not considered before. BC Networks is such a company that will be able to give you qualified IT support and allow you to take these advantages for yourself.
One thing that you may not have previously considered is what you are paying for IT services when you have no problems with your technology or Internet. The value of good IT help is clear when you have something that needs to be fixed and you don't have the technical know-how to do it. However, much of the time your technology is going to be working fine. In that case, you don't want to be paying for IT services that you aren't using. To do so would cost you money you don't want to lose.
Instead, you only want to pay for IT advice when you need it. That's when you can reach out to BC Networks. They're ready to work with you on a number of technical problems that may arise in your work, for a reasonable price.
Another advantage that you may not have considered is that you won't have a need to do the hiring of quality IT professionals yourself. It should be no surprise to you that in order to receive the best results from your IT workers, you need to have people who can get the job done right. Finding them by yourself, however, can be a challenge. You need to make sure when you are investing in IT services that you have someone who can respond to a variety of challenges, but it can be hard to recruit these qualified people to join your team.
What you want instead is IT professionals with a proven task record who will be able to work with you to resolve your problems now. BC Networks will be the business for that. Not only have their professionals fixed a number of different problems across many different industries, they also have received up-to-date training in the newest information systems, taking away the need for you to train an IT professional on your team as well.
It may also be that you don't plan on hiring tech support and instead are planning to have a current employee of yours handle these duties. But this will put someone who has not been trained in these technologies in charge of maintaining the information systems for your business. In order to fulfill your promise to your customers, you need to be certain that your technology will be operating at the level that you need. For that, you need IT professionals to handle your work.
In addition, even when it isn't business hours, you may have problems with your technology or require technical help. It may also be that if you hire an IT professional, they will be out of the office when you need them. Or, if you have one of your other employees handling IT, they may be working on another project when you need IT help. In that case, you want to know that you have someone who can answer your questions whenever you need them to. In this case, outsourcing your IT needs is going to be your best solution.
Finally, you want to make sure that you have the time and capacity to focus on what makes your business essential to your customers. That's going to be your core area of service, not your expertise in IT. The fact is that you aren't likely to be able to match the capability that a large firm will have to hire an IT staff on an in-house basis. But you still need the ability to react to challenges that you'll face because of your technology in a way that will put you on par with any of your competitors.
For all these reasons, you'll find value in outsourcing your IT. And if you're in the San Jose area, you can hardly do better than signing up with BC Networks. With more than 30 years of providing quality IT services, they know how to do the job right to make sure that you are operating at your fullest potential.
San Jose IT Consulting By BC Networks
BC Networks was one of the first consulting firms to work with PCs in the Silicon Valley area, having been in operation since 1989. With their proven IT procedures that have withstood the test of time and helped a number of different firms similar to yours, they can be trusted to work with you on a variety of IT projects. Don't wait to outsource your IT and save yourself time and money — contact BC Networks today to learn how they can help your business.
Experience and strategy are what set us apart from other San Jose, Silicon Valley & South Bay IT companies. We deliver consistently optimal results following our carefully developed and mature set of IT practices and procedures.