Microsoft Teams Keeps Employees Productive During Remote Working
In light of the COVID-19 pandemic, Microsoft Teams provides video distribution and file sharing services to keep your business running and employees productive.  
With the World Health Organization designating COVID-19 a pandemic, business owners are facing a difficult challenge. Estimates for how long this isolation phase will last range into the months (Washington Post). Even after this initial isolation, there may be other phases of isolation in response to future outbreaks. Entrepreneurs need another way to operate., and Microsoft Teams can provide your employees with the tools they need. In the San Jose and Bay areas, BC Networks is your IT and technical support partner for physical distancing solutions.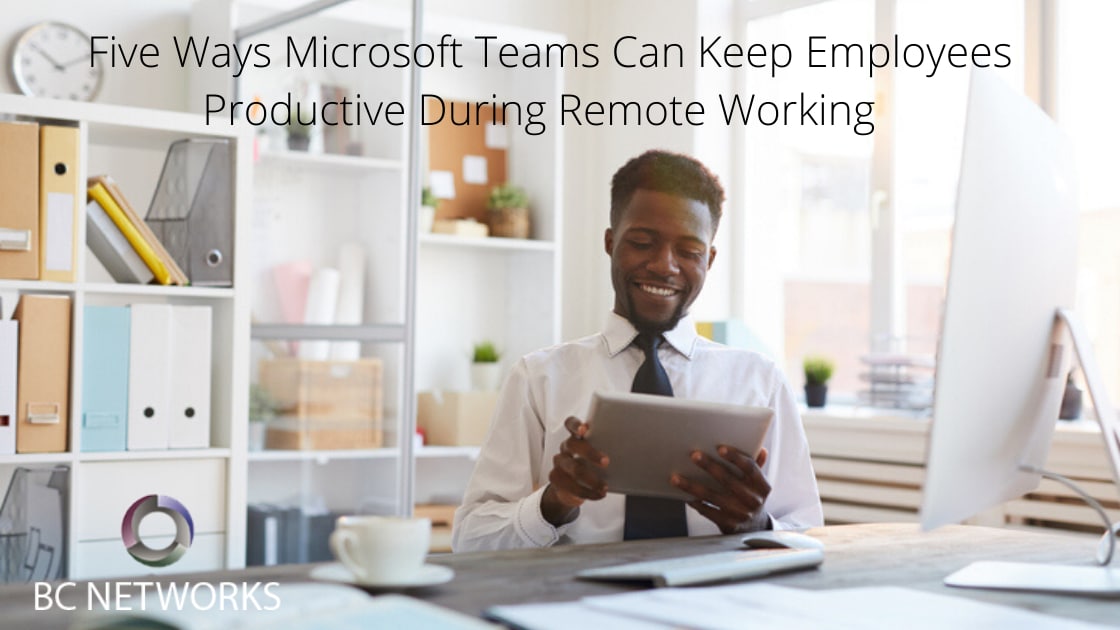 How Microsoft Teams Can Keep Your Staff Working Despite Physical Distancing
Maintaining The Power Of Social Connection
Only weeks into the worldwide response to the coronavirus, the language changed from social distancing to physical distancing. That change happened because health organizations around the world realized the power of remaining social. Microsoft Teams captures this power by providing video, audio, and file-sharing capabilities in one package. Your employees will be able to share emotion through crystal clear transmissions and debate ideas through nuanced language changes on documents. Keeping your employees connected to your mission and team can keep your organization moving.
Demonstrations At A Distance
For people that process information visually, nothing provides clarity faster than watching the example. Microsoft Teams offers remote staff the ability to watch physical demonstrations via video feeds, and ask live questions via chat. Making external pitches to potential clients? Let Microsoft Teams create personalized presentation packages including recorded video presentations, organized information files, and live interactive video feeds. Businesses can provide powerful demonstrations to participants nearly anywhere in the world with the push of a button.
Visualize Data In Interactive Formats
In many fields, presentations simply cannot convey the relevant information without effective data visualization tools. At the same time, people tend to get bored and daydream when all they can see is static files with numbers and lines. Microsoft Teams is designed to integrate with other Microsoft Office 365 products like Microsoft Excel, Microsoft PowerPoint, and Microsoft Word. That means you can incorporate files from those programs into your presentation, or easily direct participants to access the files and follow along. If you can't sit in the room, there is no other substitute for the combination of accurate, easy to understand information and a passionate presentation.
The Benefits Of Cloud-Based Applications
Perhaps one of the scariest elements of the COVID-19 virus is that it destroys our ability to predict. That is why the power of cloud-based tools are so vital to keeping your business operating. Because the recorded video and stored files within Microsoft Teams are kept in the cloud, they can be available to staff regardless of their current locations. By using Teams as a headquarters for your project, your staff won't have to worry about what office they may be using next week. They will always have access to the files, and will be able to work collaboratively with other coworkers whether they are across town or across the world. With the added security and stability that comes with the Microsoft name, you can know those files are safe.
Unparalleled Project Management
Even if you were all under the same roof, project management is a significant part of getting things done. Microsoft Teams has all the tools you need to manage your group project from idea to finish. These powerful tools include easy management of group members, shared document libraries for team files, and a shared mailbox and calendar. You can even add people from outside the organization to a team as guests.
BC Networks: Microsoft Teams Support
You don't have to figure this out alone. BC Networks has over thirty years of experience helping companies in San Jose and San Francisco to increase productivity and security. We can build you a business continuity solution to help you operate through almost anything. Contact us today for a free consultation.
Experience and strategy are what set us apart from other San Jose, Silicon Valley & South Bay IT companies. We deliver consistently optimal results following our carefully developed and mature set of IT practices and procedures.