How Enterprise IT Services Benefit Your San Francisco Business
Is your enterprise business looking for technical support? Learn how technology solutions providers can give your business enhanced services and cybersecurity.
Large companies need technology solutions that can solve complex issues ill-suited to internal It teams. Enterprise IT services can augment your in-house team, address complicated technology challenges, manage IT projects and provide insightful guidance.
Our enterprise IT services address your essential technology needs, including:
Supplementing your existing IT team to close skills gaps and deliver specialized expertise
Project management to plan, design, implement and optimize your critical systems and infrastructure projects
System migrations, including sunsetting legacy systems and moving data and applications to the cloud
Regulatory compliance with federal, state, local and industry mandates
Harness new technologies with innovative tools using artificial intelligence, automation, business intelligence, cloud computing and more
Security assessments, including penetration testing and vulnerability evaluations
The growth in demand for IT services is massive. Gartner projects spending on IT services to increase by 5 percent and 5.5 percent, respectively, in 2020 and 2021, to $1.1 trillion worldwide.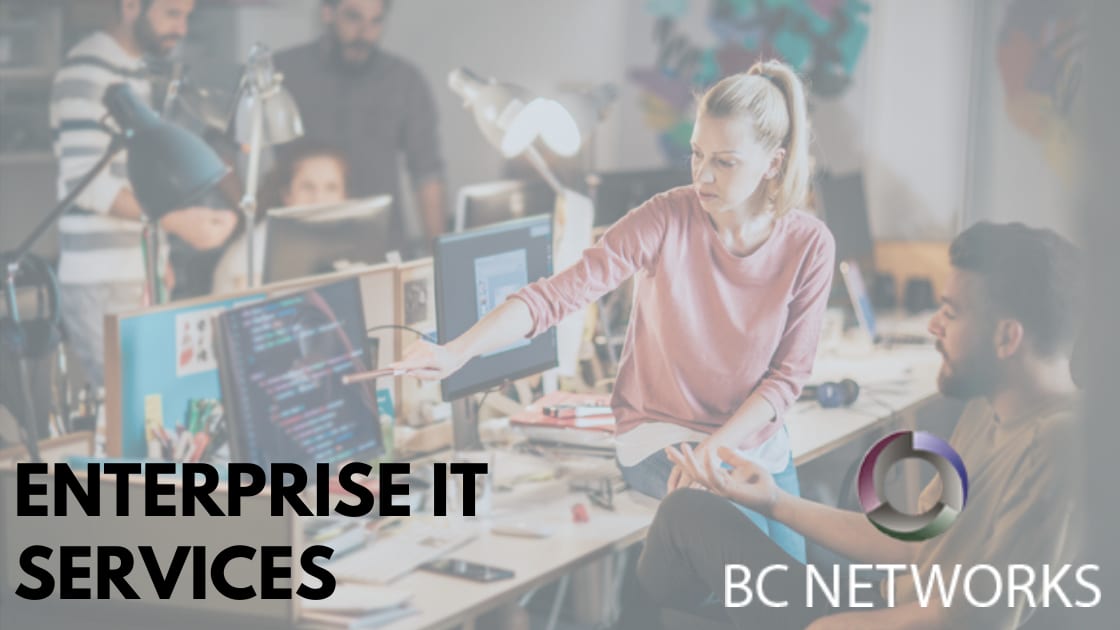 How Can My Company Supplement Internal IT Staff?
Many internal IT teams focus on a limited number of IT tasks. With staff augmentation, you'll have access to IT professionals with expertise in areas of your technology that are overlooked, delayed or ignored. Staff augmentation helps complete dormant projects with a flexible approach to staffing that is scalable, allowing you to ramp up demand as needed.
Can A Technology Services Provider Manage Our IT Projects?
IT projects are hard to manage with internal resources, as they often require employees to take on significant additional work while still completing their day jobs. Tap into a technology company's vast resources and expertise to handle all aspects of your IT projects, including project management, change management, process mapping, system migration and cybersecurity tasks.
Is your business looking to replace outdated legacy systems? Find a partner that can help identify needs, map existing processes and interactions, and build a project roadmap. Let our teams develop implementation plans, migrate users and data, integrate new technologies with other systems, test and support newly implemented tech.
What Technical Expertise Can a Technology Services Provider Offer?
Does your enterprise business need a chief information officer? A full-time CIO may not be a viable option, but with a virtual CIO, you gain the insights and knowledge you need for strategic decision-making. Having a virtual CIO helps you eliminate costs, assess your technology and empower your teams to work more effectively and efficiently.
Create an IT roadmap with a clear direction for your technologies and how they will shape your business today and tomorrow.
A virtual CIO oversees the initial assessment of your technology stack, which will identify gaps and opportunities. They will develop recommended solutions and advise you on the costs, benefits and impact of those solutions.
What's more, your virtual CIO is an on-demand resource to advise you on how to use new technologies to benefit your business. Your virtual CIO helps develop the IT components of your strategies and budgets.
What Technologies Assist with Regulatory Compliance?
Governments around the world are passing laws governing data and cybersecurity. Our services help businesses prepare for compliance audits, complete assessments, generate reports and ensure systems and data are managed in accordance with multiple compliance mandates.
How Can a Technology Services Company Help With Cybersecurity?
Cybersecurity is one of the foremost concerns among CEOs and IT leaders. Our security experts help companies with comprehensive cybersecurity assessments and solutions that include:
Data backup
Mobile security solutions
Employee training
Business continuity and disaster recovery
Anti-phishing, anti-malware and anti-spam tools
Network firewall security
BC Networks has more than 30 years of experience helping businesses throughout Silicon Valley, San Francisco and the Bay Area. We support enterprise businesses in manufacturing, engineering, finance and other industries. Learn more about our technology solutions by contacting us today.
Experience and strategy are what set us apart from other San Jose, Silicon Valley & South Bay IT companies. We deliver consistently optimal results following our carefully developed and mature set of IT practices and procedures.