Guarantee Network Security to Combat COVID-19 Hacks
As the COVID-19 pandemic stealthily stalks the globe, hackers are taking advantage of the disruptions it's causing to ramp up their attacks. Many companies are finding themselves especially vulnerable as employees make a swift shift to working from home. Remote workers are prime targets for bad actors in the cyber underworld. Here's an overview of cybercriminals' most popular tactics, and how you can secure your network to keep data breaches and other threats in check.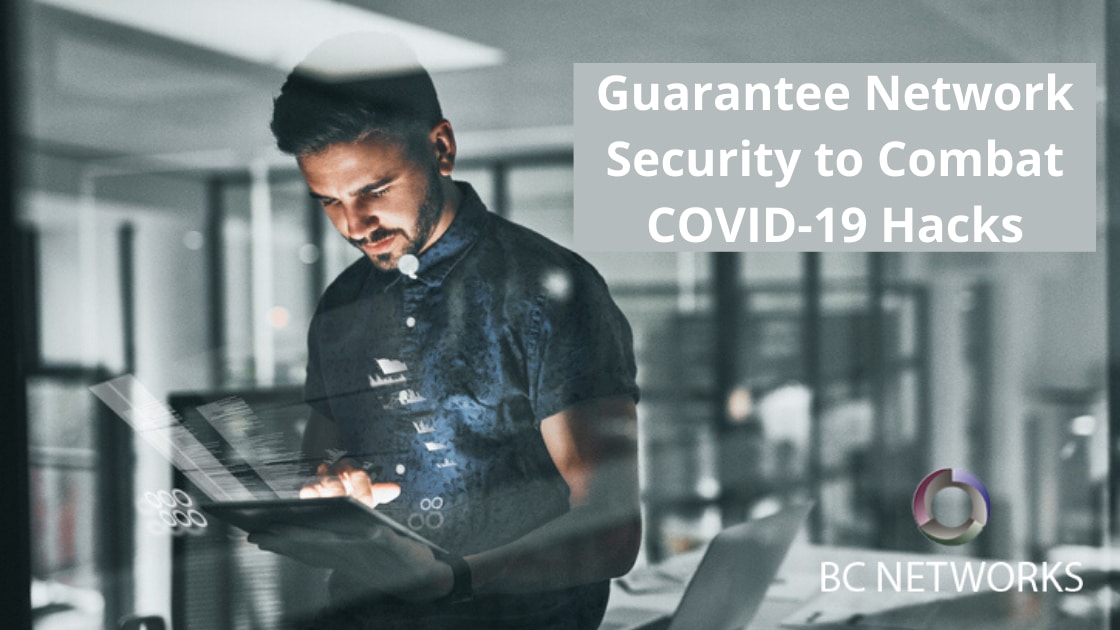 Hackers Top Tactics for Invading Company Networks
Phishing Scams. Phishers have taken to sending emails to unsuspecting workers, asking for personal data such as social security numbers or login information. Other messages may pressure you to "act now" to purchase cures or treatments for the coronavirus. Complying with these requests gives hackers ready access to financial information and other sensitive data.
Phone Calls Seeking Personal Information. You may receive phone calls or texts asking for your personal information. These calls and messages may appear to come from government agencies, such as the IRS, when, in reality, they are coming from individuals seeking to steal your data.
Tips for Securing Your Network Against COVID-19- Related Attacks
Fortunately, you can take steps to reduce the risk of malware and other cyber threats. Here are some tips to consider.
Fortify Your Network
Equipping your system with the latest firewalls and anti-virus software will make it more difficult for cybercriminals to find their way in. Identify vulnerabilities in your system, so you know how to target your security plan. Provide collaboration tools and video conferencing applications with built-in safety measures to keep uninvited parties out of virtual meetings and other interactions among colleagues.
Set Up a VPN
Using a virtual private network allows for a secure connection for workers to access company data. Setting up a VPN provides extra protection against a variety of digital dangers, similar to the way corporate firewalls do when you are working on-site.
Establish Safety Protocols
Ensure that all company-issued devices are protected, so corporate data doesn't fall into the wrong hands. Additionally, weak passwords are so prevalent that hackers can sometimes crack them in less than one hour. Enabling multi-factor authentication requires employees to submit additional data to verify their identities when logging in, making it more difficult for hackers to find an entry point into the network. Whenever possible, employees should not access corporate-issued devices for personal use, and vice versa. It's a good idea to use caution when connecting multiple devices, too.
Educate Your Employees
Provide training for your employees, so they know how to recognize and report suspicious activity. Remind them not to open attachments or click links in emails from unknown senders. Make sure your employees understand the danger of using personal devices and public wi-fi when accessing company data. Employees should immediately delete emails promising a miracle cure for COVID-19. Likewise, they should not respond to calls, messages, or emails asking them to wire money or provide personal information, even if the source looks and sounds legitimate. Government entities and sites such as Google will never solicit this information via these channels. Employees should also be instructed to block and, if necessary, report, senders they don't trust.
Enlisting the services of a reputable IT partner will go a long way toward keeping suspicious characters from invading your network. Hackers are constantly fine-tuning their arsenal, so it can be challenging to keep up with this rapidly-evolving threat. Experienced IT professionals can help you stay a step ahead of cybercriminals so you can intercept many of their attacks before they can overtake your network and sideline operations.
Experience and strategy are what set us apart from other San Jose, Silicon Valley & South Bay IT companies. We deliver consistently optimal results following our carefully developed and mature set of IT practices and procedures.